I'm in the car heading back to NYC- I had such a wonderful time in Newport! The picture above is from the very windy sail I went on yesterday! The people of Newport are great and the attractions were historical and interesting.
This is the Hotel Viking were we stayed. They had amazing accommodations for us and the dog: We had our own dog wing and you could order made to order dog food from room service- crazy! They even had bags for picking up poo.
These photos are of The Breakers where the Vanderbilt family summered. It was INSANE. I felt like I could certainly get used to that lifestyle. At least for a little while as long as I had someone to help me dust.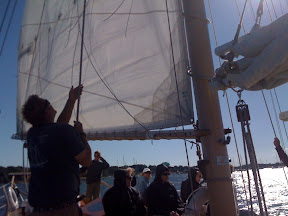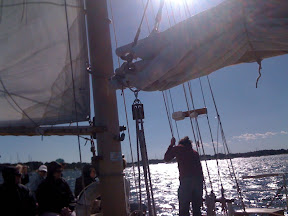 Here are more sailing pics-- note the tilt in the bottom one! The captain was actually giving recommendations for dinner to those ladies if you can believe it. I was totally freaked out and think I will postpone those yachting lessons. . .
As far as my healthy eating went, it did not totally go out the window. Based on the metabolism book, I did eat breakfast and tried to eat every four hours and not after 9 pm. Organics were hard to find, but I tried to order local products (plenty of fresh seafood) but I was a sucker for some New England clam chowder! I also have stuck to no caffeine after noon and I worked out every day. One morning was a C25k run on the hotel treadmill and this am was Kristin Magee's cardio pilates off the hotel on demand menu. It was so great and challenging I am now going to order it when I get home!
Was I a total angel? Not every meal, but I was proud I stuck to my guns. Vacations are meant to be about enjoying yourself within reason, and I did exactly that!
- Posted using BlogPress from my iPhone